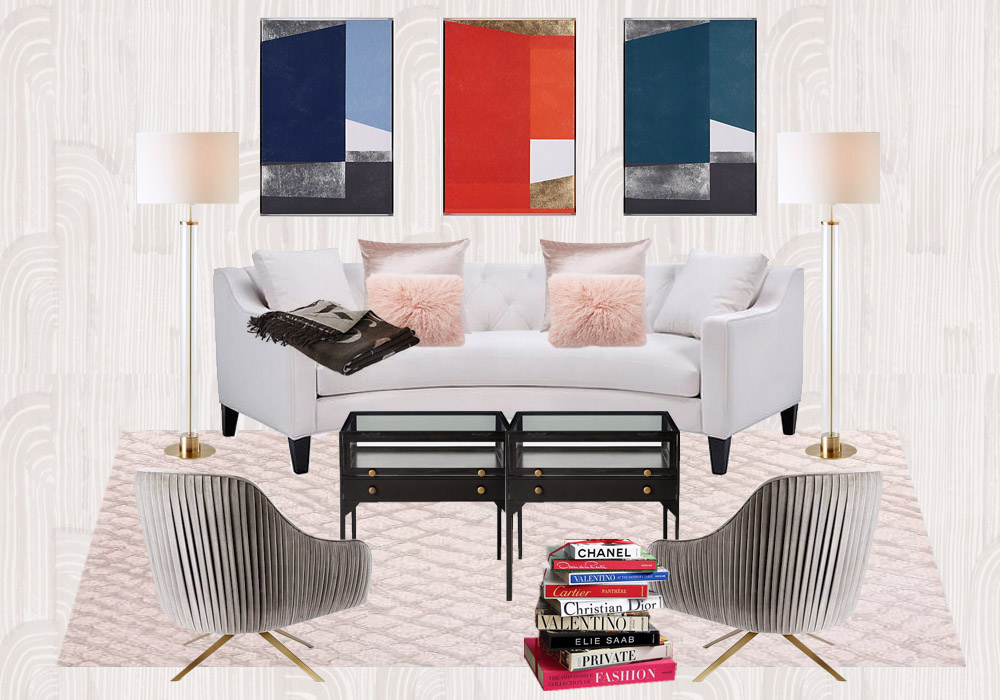 Design challenge: style a VIP room for a photo shoot in two days using floor samples from stores found at the mall, with the Chanel boutique as your inspiration. Ready-set-go!
It's been a busy few days! I'll be styling a similar look to the above tomorrow in a room that right now looks little like this. But I had so much fun pulling it all together that I had to share some of the pieces I was able to find at retailers Z Gallerie, West Elm and Assouline to achieve what I'm calling a "fashion editor's artsy apt" look. Couldn't you see this slight deco femme flair with a sleek contemporary edge in an Upper East Side NYC apt?
Can I pull it off? I'll try my best to share a sneak peek on Instagram and a few final photos when I get them. Wish me luck!
blue art / red art / teal art / floor lamp / semi-circular 'Circa' sofa / 'Didot' cashmere throw / luster velvet 'Dusty Blush' pillows / Mongolian lamb 'Rosette' pillows / black shadow box side tables / Roar + Rabbit 'Velvet Nickel' pleated chair / Crosshatched Shine Rug / assorted Assouline fashion books / (background texture: Kelly Wearstler 'Crescent' wallpaper)
Design board by Erika Brechtel