I would like to pretend I can travel the world just to see art.
But in reality, I travel for work and family and make it a point to see art whenever and wherever I can: Alexander McQueen in London, Prada/Schiaparelli in New York, Art Basel in Miami, James Turrell in LA, Pegge Hopper in Honolulu. And I'm starting to get that itch again…where to go next? These six alone have me jones-ing to jet set:
LONDON
"Vogue 100: A Century of Style" at the National Portrait Gallery
(above) 280 pieces from a century of photography pulled from the pages of British Vogue to commemorate their 100th anniversary, #Vogue100 features legends like Cecil Beaton, Irving Penn, Lee Miller, Man Ray, Richard Avedon, Helmut Newton, Herb Ritts and Bruce Weber, as well as present-day superstars Patrick Demarchelier, Peter Lindbergh, Mario Testino and Nick Knight to name a few. As I write this I simply cannot imagine how phenomenal this exhibit must be. Get a glimpse here: vogue.co.uk. On view through May 22nd, 2016. npg.org.uk
NEW YORK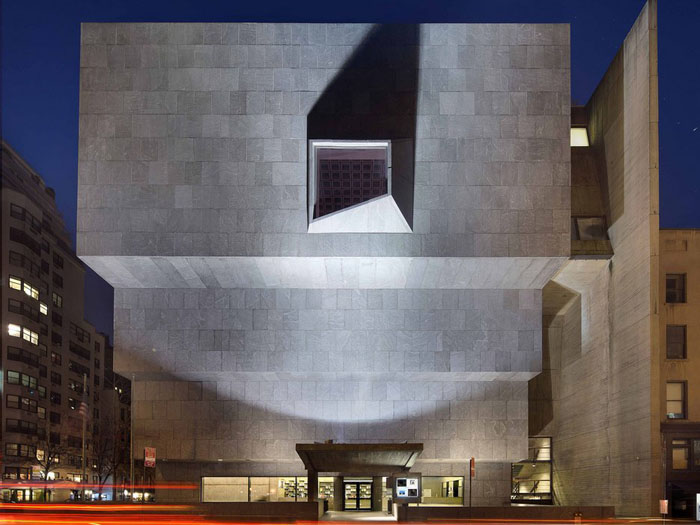 "Unfinished" at the new Met Breuer
ICYMI, the Whitney moved down to the Meatpacking District in a fancy new contemporary building, leaving its former home by mid-century architect Marcel Breuer empty; the Met has since closely restored it to its 1966 state, with some intentional "patina." The opening exhibit "Unfinished: Thoughts Left Visible" brings together various works of art from the Renaissance to present day by various artists left unfinished. Any time you can see Titian, Rembrandt, Cezanne and Twombly in the same exhibit, I say, "Go!" On view March 18th through September 4th, 2016. metmuseum.org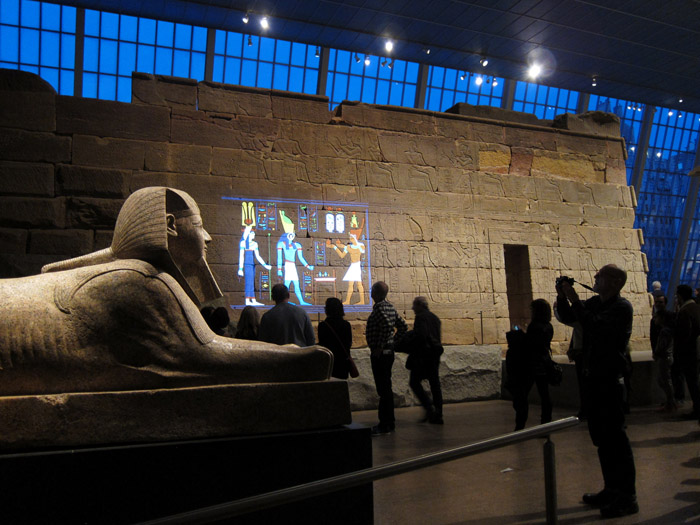 "Color the Temple: Scene 1" at the Temple of Dendur, The Met
The Met is my must-go spot every time I'm in New York, and the Temple of Dendur is my must-see when I'm there. If you are lucky enough to be in the city this weekend or next, be sure to catch this colorful recreation using digital projection to show how the temple wall murals may have looked 2000 years ago. And be sure to report back…I would have loved to have seen it for myself! On view Fridays and Saturdays from 5pm-9pm only through March 19th. metmuseum.org
CHICAGO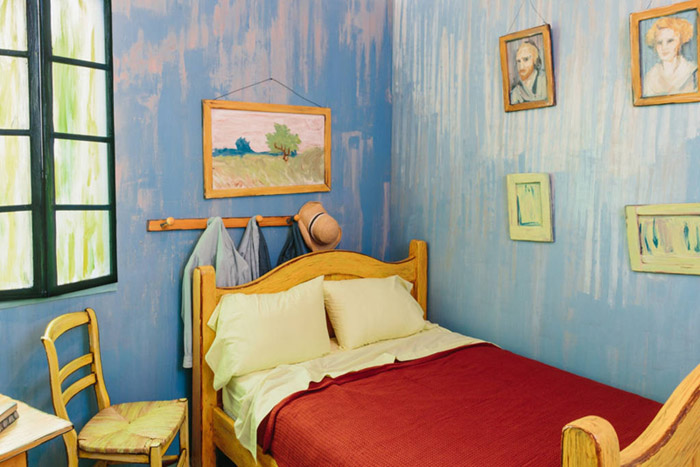 "Van Gogh's Bedrooms" at the Art Institute
A more intimate exhibit explores in-depth three of Van Gogh's most recognizable pieces together in one place of one particular subject: his bedroom in Arles. A reconstruction of his bedroom awaits visitors, as well as over 30 of the artist's works.. If you've never seen a Van Gogh in person, add it to your bucket list: the pure intensity and dimensionality of stroke movement and paint application is moving, to say the least. Stick around to view the Art Institute's many other notable works (I was really quite impressed with the collection when I visited in October). On view through May 10th, 2016. artchi.edu
LOS ANGELES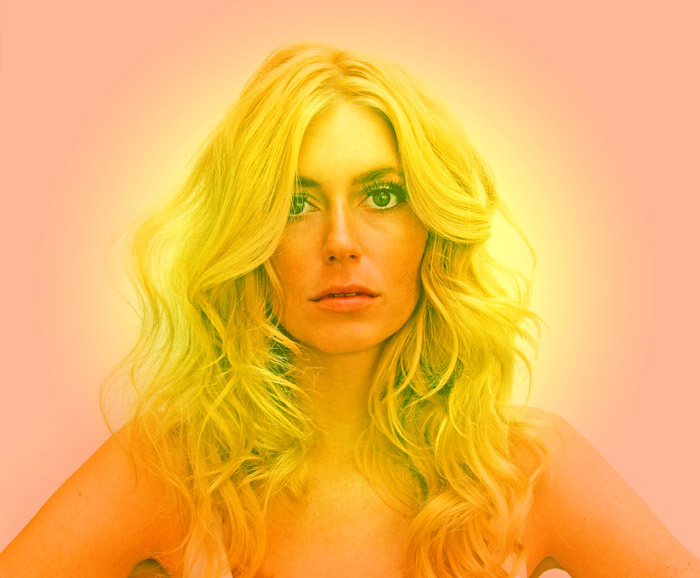 "Fresh Faces: New Portraits by Los Angeles Artists" at Saatchi Art
Just saw this one pop up today: a rare opportunity to view new art by emerging artists, including one of my faves, Stephanie Vovas (her Diora Aura, above). Also take the opportunity to purchase any of the pieces and take one home with you, starting at $500. (Another bucket list item: own more original art!) On view from March 24th through May 13th, 2016, Monday through Friday 10am-5pm and Saturday by appointment. saatchiart.com Opening party, March 24th (details here). 
HONG KONG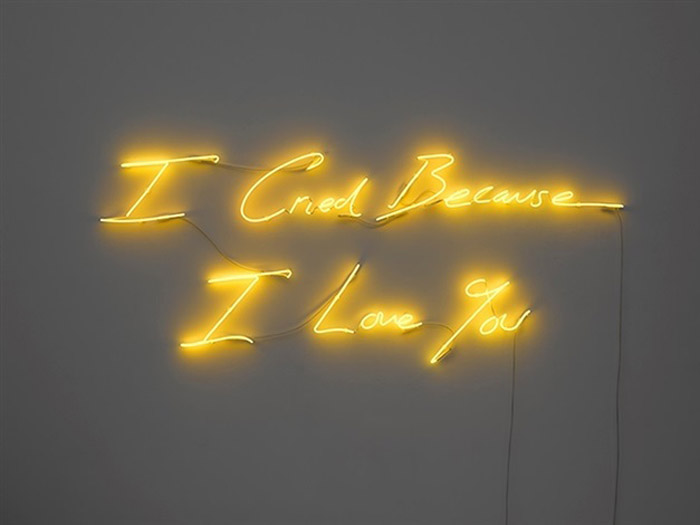 Tracey Emin's "I Cried Because I Love You" at White Cube
In town for Art Basel? Don't miss this one. Tracey Emin drew me in me long ago with her vulnerable, emotive neon typography work. Her latest show — her first in Greater China — includes painting and embroidery as well, encompassing her ability to expose her inner and outer selves with raw, honest creativity. Be prepared to get pulled in too. On view March 21st through May 21st, 2016. whitecube.com 
Any good shows in your town? What are you hoping to see?