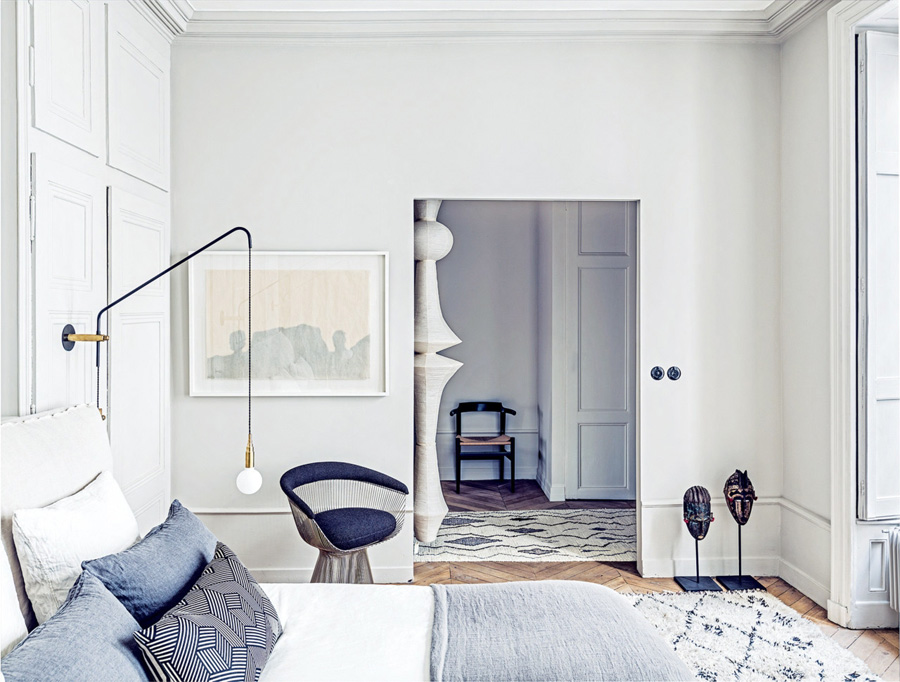 It seems to be second nature for Europeans when it comes to making a room look effortlessly thrown together.
For the rest of us who have become accustomed to decorating our homes using symmetrical balance, sensical order, and a place for everything, here are a few tricks of the trade for just how they achieve that informal flair. It's all about a little twist here and there, an unexpected detail. Take note of these easy-to-emulate moves with artwork, lighting, accessories and mirrors:
ARTWORK
No. 1: Hang a Horizontal Piece of Art in a Vertical Space
(above) Most of us would look at that wall and think to put a portrait-oriented piece of art there. In this Parisian apartment, the homeowner instead hangs a landscape-oriented piece (that we also might even think is proportionally too large). It works.  And is super cool.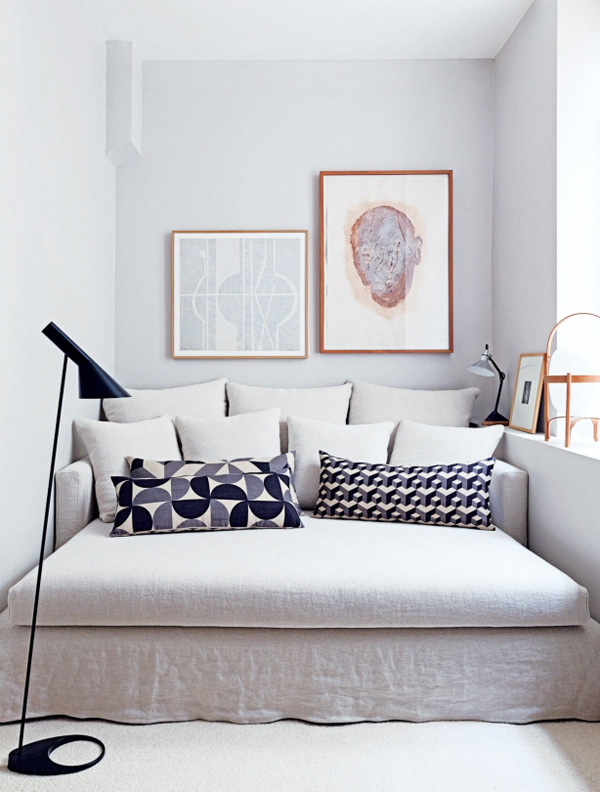 No. 2: Hang a Pair of Non-Matching Art in Different Sizes
The trick here is to make sure the two pieces at least coordinate with each other; here, the gray and the ivory pull the two together into an unlikely pairing.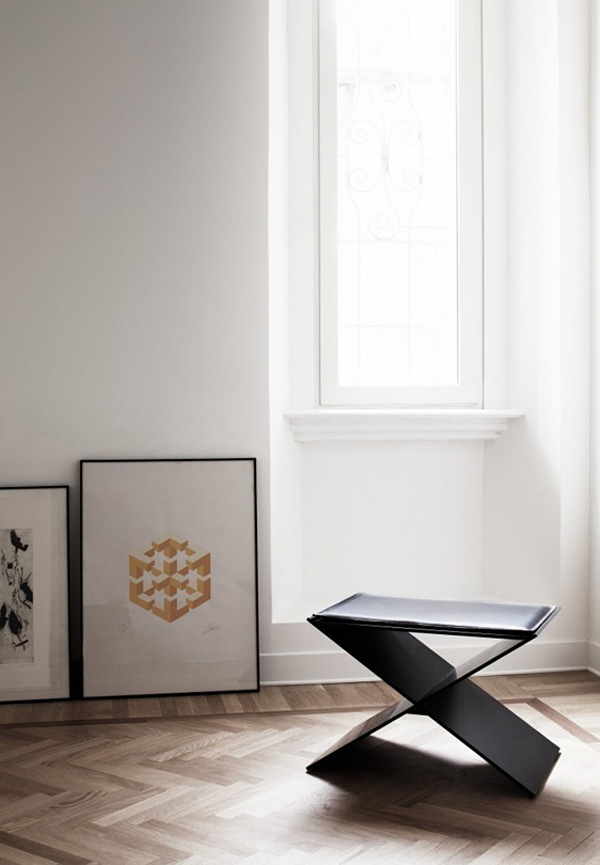 No. 3: Lean Art Against a Wall, on the Floor
You've probably seen this a lot lately; I love this look and use it often (although admittedly, often unintentionally). I find it works well when in groupings: try a smaller piece leaning in front of and against a larger piece, for example.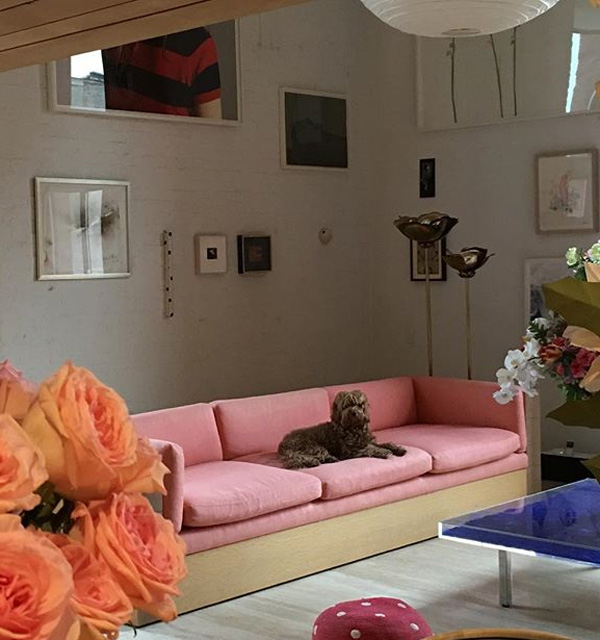 No. 4: Spread that Gallery Wall Across the Entire Wall(s)
Rather than grouping art into a gallery wall on a single wall, Dutch fashion photographers Inez & Vinoodh decided to hang their pieces sparsely across the entire wall and onto the next wall in their New York loft. This technique gives the space the feeling of an actual art gallery. And although seemingly random, you'll notice the visual weight and negative spaces are well thought-out.
LIGHTING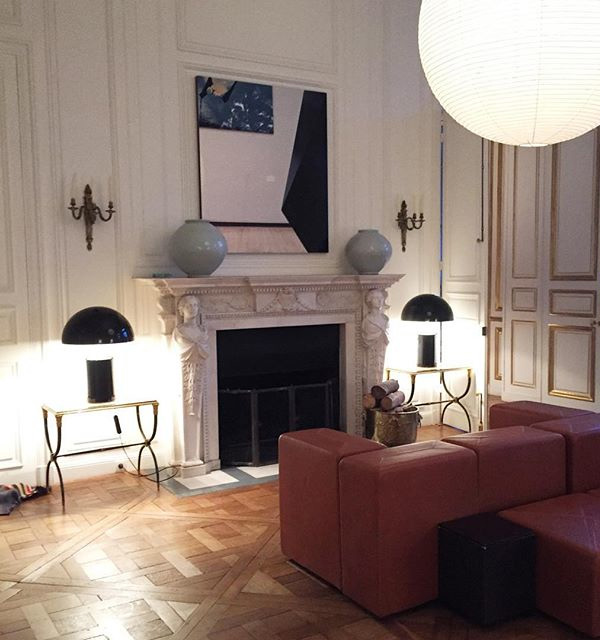 No. 5: Replace a Pair of Sconces or Floor Lamps with Table Lamps on Tables
Current Louis Vuitton creative director Nicolas Ghesquière flanked the fireplace in his Paris apartment with table lamps on side tables. I would be tempted to add some books under those lamps, but the sculptural quality of this simple solution works.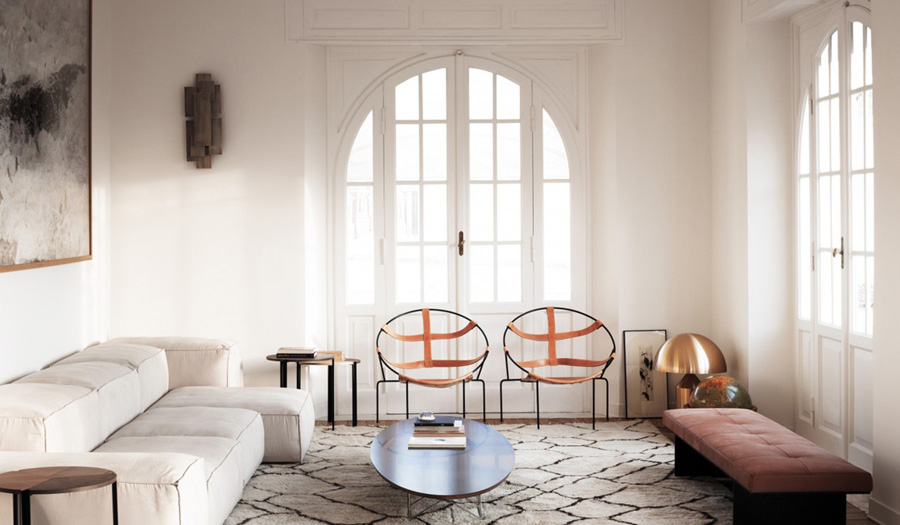 No. 6 : Put a Table Lamp on the Floor
Besides the fact that the brass mushroom lamp in this living room in Rome is a spectacular piece, it's unexpected to find it sitting on the floor. Notice how it's balanced out with the wall art in the opposite corner hung high.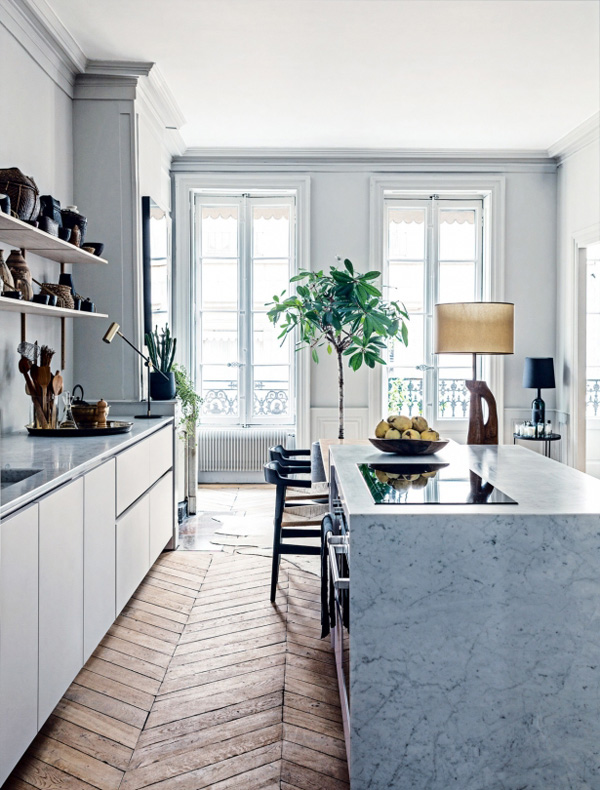 No. 7: Put a Table Lamp on the Kitchen Island or Counter
I might try this one immediately! It's sculptural but functional, as a kitchen should be.
GROUPINGS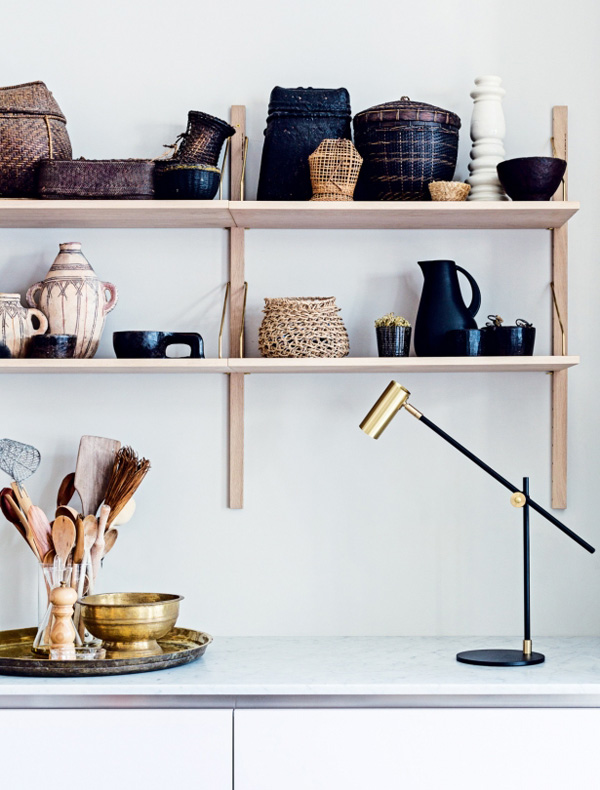 No. 8: Group Kitchen Items onto a Tray
In this same kitchen, normal kitchen "junk" is neatly grouped together on a tray, clearing the counters and providing a minimalist feel. Also notice how they've grouped vessels and containers onto the shelves, turning otherwise random pieces into a collection.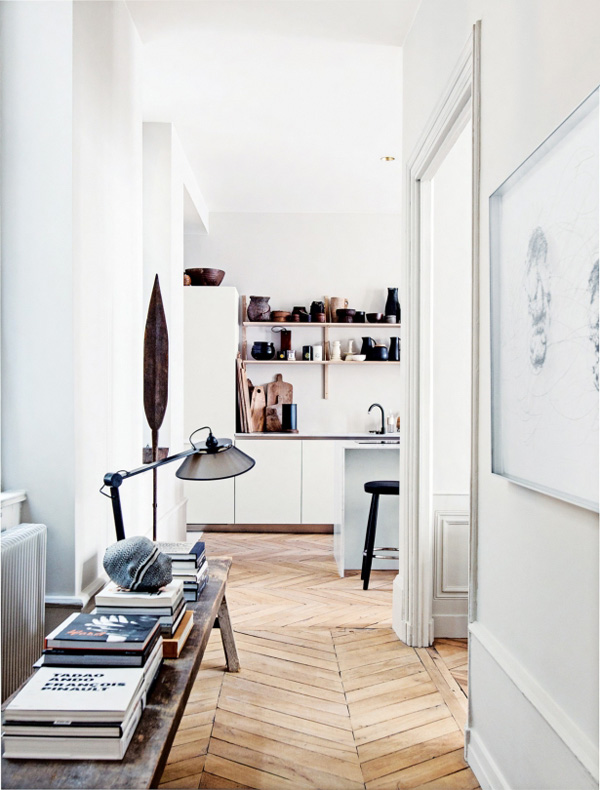 No. 9: Replace a Bookshelf with a Bench
Not only did the designers put a bench in a hallway, but they turned it into a bookshelf of sorts by stacking books on top of it. Love the addition of a task lamp, creating a sense that this is also a working library.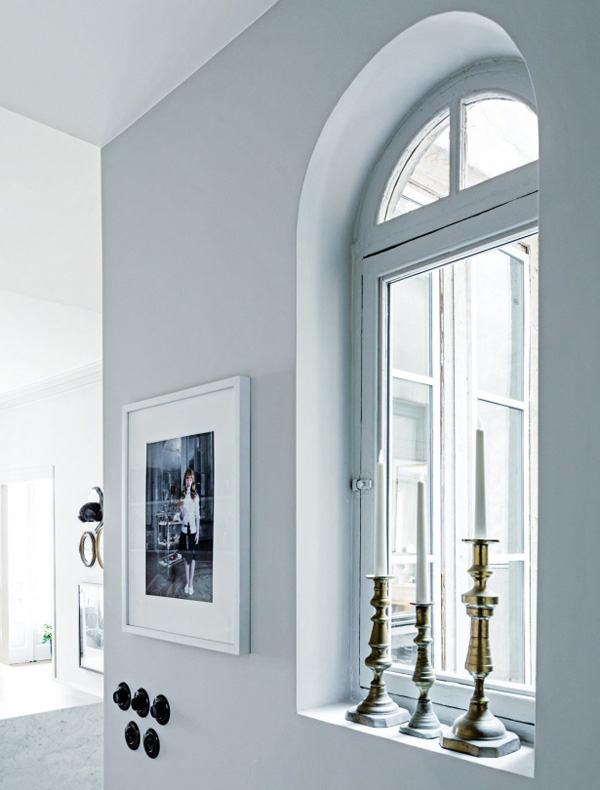 No. 10: Place Candlesticks in a Window Sill
Maybe you've already thought of this, but I was thinking just how pretty this must be from the outside looking in — suddenly that window sill is a shelf showing off an antique collection to the world.
MIRRORS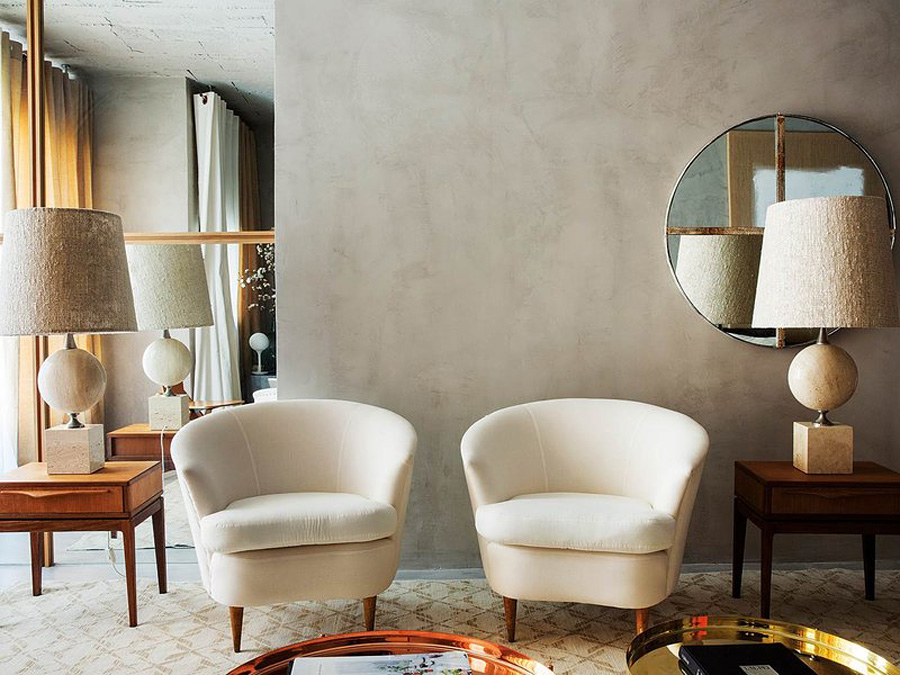 No. 11: Hang a Mirror Off-Center
I think I can safely guess 99% of us would want to hang that mirror centered above the two chairs (and most certainly not behind a lamp!). It works in this Madrid apartment because the lamp and the mirror together create a grouping that is balanced by the lamp and the table (and mirrored wall) on the other side of the chairs, and the negative space between.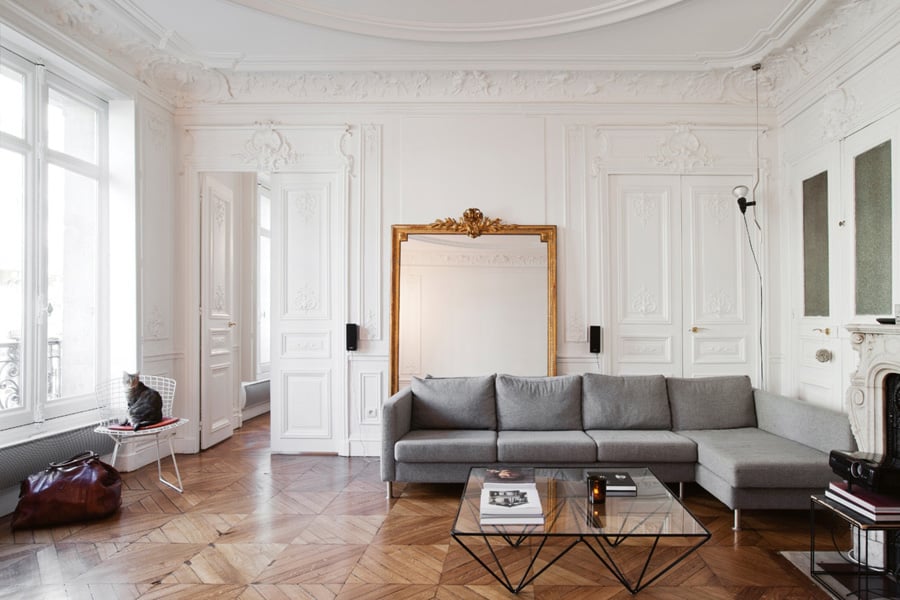 No. 12: Lean a (Very) Large Mirror Against the Wall on the Floor
Once again, I think most of us would think to hang that fancy mirror (or perhaps even a slightly smaller one) between those doors, right? Rather, in this Parisian apartment, the designer has taken an oversized mirror (almost too uncomfortably large for that wall) and has informally leaned it against the wall.
So what do you think? See any tricks you could employ in your home, like today? I've already been playing around with being more "relaxed" in my approach to decorating, and it's truly liberating.
Give it a shot, and as always, have fun!
Images: Maison Hand / Quincoces-Dragò & Partners / Inez & Vinoodh / Nicolas Ghesquiere / OOAA Architectura / Helenio Barbetta