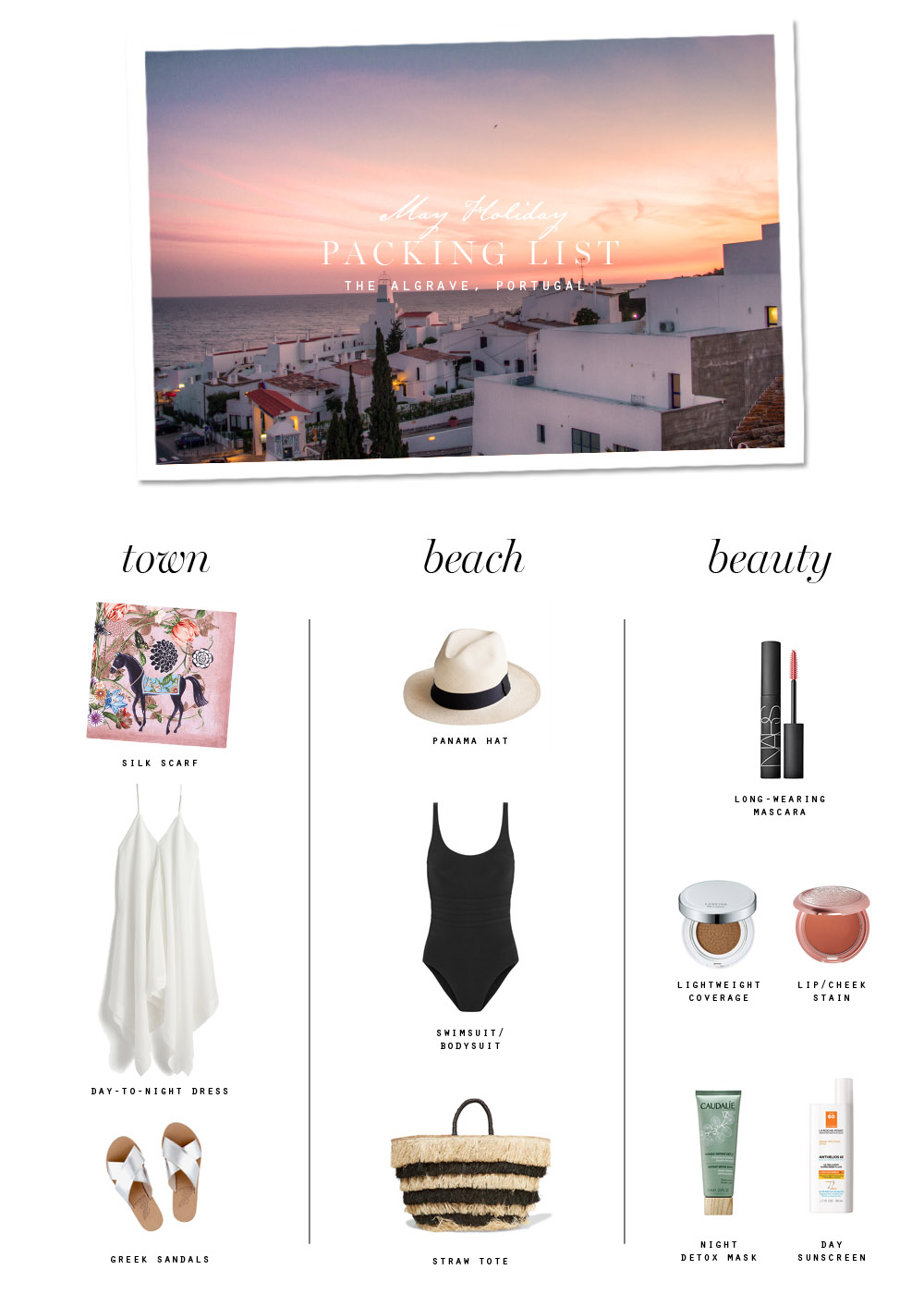 At the end of May, British schools (and many schools in Europe) will have their weeklong half term break. Many families will get packing for holiday, or vacation as we Americans call it. As many will crowd family friendly resorts with mega water slides, I opted for my family to stay at a serene and peaceful private property in the Portuguese Algarve just a few kilometers off the beach. When traveling with my young children, packing is a strategy. I want to stay comfortable yet stylish and functional- all in one carry on luggage bag for myself.
For the poolside or beach, I pack items that are versatile and can be worn several times, different ways.
TOWN
A colorful beautiful scarf is a travel essential. I am loving my new Gucci floral scarf for Spring and Summer. Tie over the head or classically on the neck for a pop of chic.
A simple light colored dress is my go-to for a beach vacation. This Crinkled Hankerchief Dress from J.Crew will go from day to night with some fun accessories in an instant.
I love my rubber flip flops (I prefer Havaianas) for the pool and beach but it won't leave the premises. To roam around town, I reach for my Ancient Greek Sandals. Well made and simply gorgeous, it is my summer staple. Now in more colors and fabrics than I can count, the options are endless.
BEACH
This J.Crew Panama hat has been a favorite for many years. Now in several shades, you can't go wrong.
I am packing a classic black one-piece from Eres. Everything about this suit is perfect- the cut, fabric and durability. It also doubles as a bodysuit with a maxi skirt or or pants. And this suit will last a lifetime.
Taking a break from leather bags, I'm excited for to carry my Kayu woven tote, made of seagrass handcrafted by local artisans. The fringe is everything.
BEAUTY
For beauty products, I keep it super simple to avoid having to pack too much. The key is sun protection at all times and minimal glowy, dewy makeup.
La Roche Posay sunscreen is lightweight and gives my skin maximum coverage. It has been my go-to for many years.
For makeup, I love my Laneige BB cushion I picked up at Target from my recent trip back home. It's the fastest, easiest even coverage with a dewy finish.
I then use Stila's Convertible Color Cream in Rose on my cheeks and lips. A few coats of my Nars mascara will complete my look that took all of five minutes.
Lastly, when the kids are asleep at night, I'll relax and apply a generous layer of my Caudaulie Instant Detox Mask to clear away clogged pores, dirt and all the stubborn sunscreen I've obsessively put on throughout the day.
SHOP THE POST:
With love from London,
Sandy