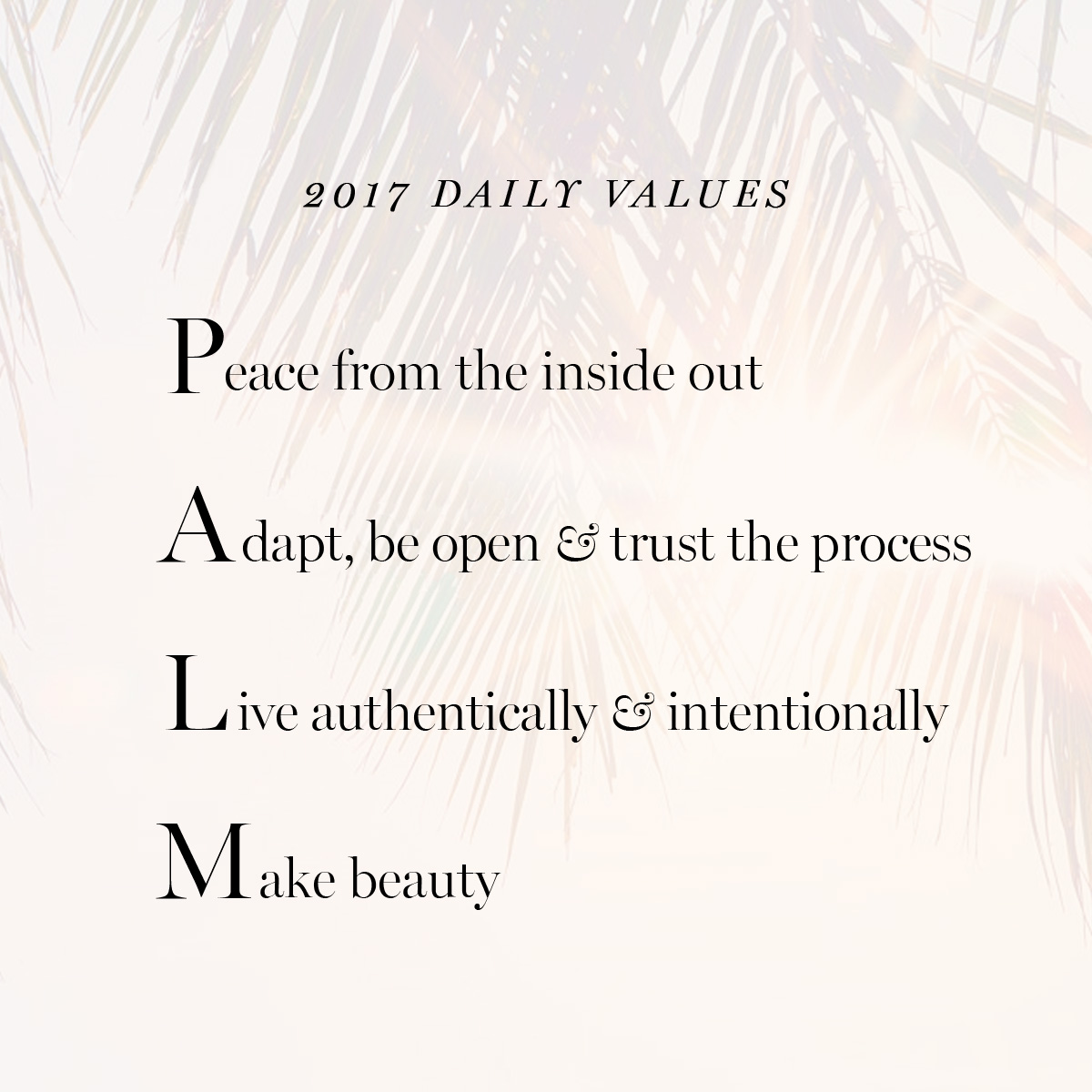 "Your beliefs become your thoughts. Your thoughts become your words. Your words become your actions. Your actions become your habits. Your habits become your values. Your values become your destiny." ~Mahatma Ghandi
A new year brings an opportunity to reflect on what you've learned, how you've grown, and where you'd like to expand in the future.
You may have heard of creating CORE VALUES for a business or organization, but what about for you, personally? Or for your family?
Rather than setting "resolutions," perhaps this year, create a set of core values for yourself; I like to think of them as daily reminders. And to add an even more personal touch, arrange them into an acronym that means something to you. I chose PALM, because it's unique and personal to me: anyone who knows me knows that palm trees make me happy. My core values for 2017 are:
P – Peace from the inside out…
It starts here for me every morning, from a place of calm, clarity and gratitude.
A – Adapt, be open & trust the process…
I believe that everything that is happening to us, is happening for us. As frustrating as unexpected obstacles can seem, go with it. See what unfolds. It may not reveal itself right away.
L – Live authentically & intentionally…
This has been my goal this past year, to be true to myself and my purpose.
M – Make beauty…
I know this is my unique gift that I can give to the world to create happiness for others, where I can.
What are some truths in your life right now that you would like to hold close and be reminded of every day? They can be words or phrases, just as long as they mean something to you and will provide direction for you. Here are some words to get you started:
Authenticity
Achievement
Adventure
Autonomy
Awareness
Balance
Beauty
Boldness
Bravery
Clarity
Community
Competency
Continuous Improvement
Contribution
Creativity
Curiosity
Determination
Empowerment
Enrichment
Faith
Fulfillment
Fun
Grace
Gratitude
Growth
Happiness
Honesty
Humility
Humor
Influence
Inner Harmony
Inspiration
Integrity
Kindness
Knowledge
Leadership
Learning
Love
Meaning
Openness
Optimism
Passion
Peace
Poise
Respect
Responsibility
Self-Respect
Service
Spirituality
Strength
Trust
Value
Wisdom
One last note: I do believe that personally, we are each on our own journey, and therefore, it is necessary to evolve our core values throughout. We're in different places in different times of our lives. Take the time to set the tone for your new year….your values become your destiny.