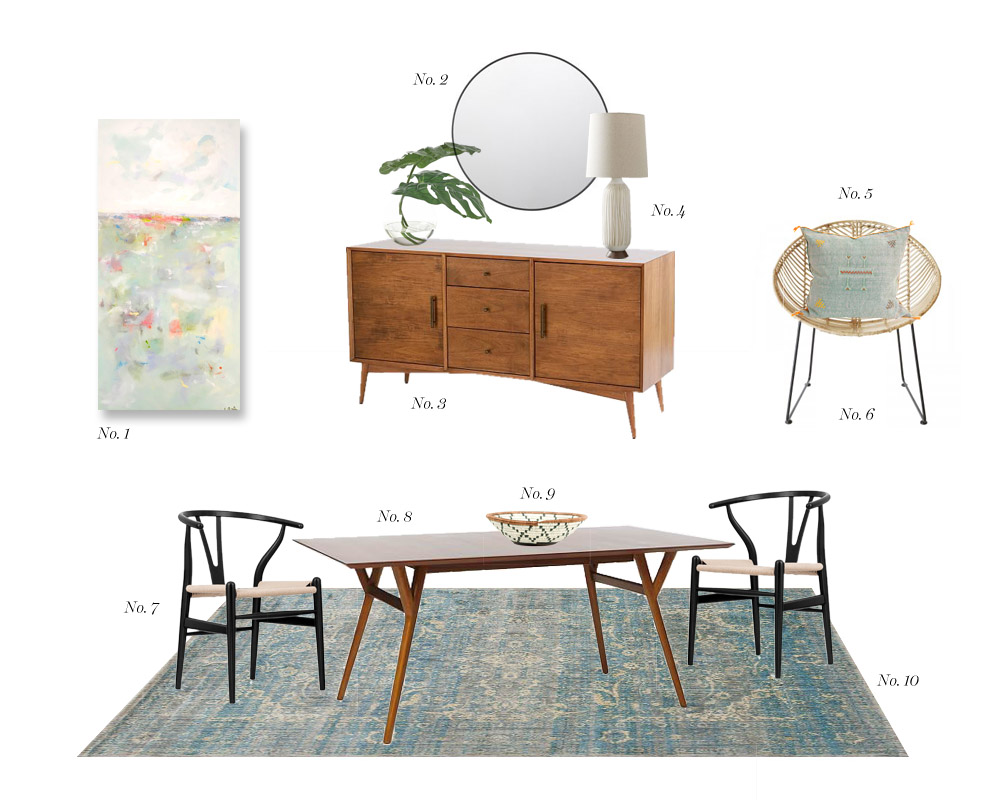 No.1 'Light Blue Abstract Seascape Painting' Linda Donahue / No. 2 Rejuvenation metal framed mirror / No. 3 Mid-century buffet, West Elm / No. 4  Mid-century table lamp, Roar & Rabbit / No. 5 Moroccan Sabra cactus silk pillow / No. 6 Rattan bucket oval chair / No. 7 Wishbone 'Y' chair, black / No. 8 Mid-century expandable dining table / No. 9 12″ Hope 'Bomso' Basket (looks like a Plumeria flower!) / No. 10 'Maliya' rug, blue 
I never thought I could combine all three styles…but here we go!
My rockstar biz partner needed some help with her hot new pad in the Palisades. It's a fabulous ranch style home with lots of windows and an incredible ocean view, so naturally I said, YES I can help with that! We will definitely get it photographed, but until then, here's a board I put together for her to shop from. She wanted an ocean/island feel (we are both from Hawaii), but wanted to be up with the times…and as we know, that boho mid-century modern feel is all the rage right now.
I happened to stumble upon the artist of No.1 's beautiful painting at a local art show in Sonoma, California while visiting my parents a few weeks ago. Check out her work, it's stunning in person! Linda Donahue: https://www.etsy.com/shop/lindadonohue
For more pieces and inspiration images, reference my Pinterest board for the project here (and will be sure to add to it): https://www.pinterest.com/erikabrechtel/kalikas-house/
Styling and board by Erika Brechtel